Reno Music Beat: Loud As Folk Records nabs airplay for local artists
by Mike Sion click here for original article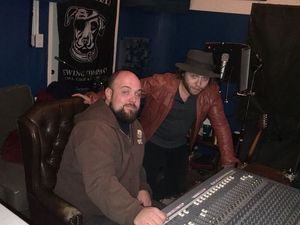 Loud As Folk Records was not strategically plotted out as a record label. There was no detailed business plan, crowdsourcing campaign or funding pitch made to angel investors. Like so many of the artistic ventures incubating among the restless young creatives in the Biggest Little City, Loud As Folk Records came about organically. Even spontaneously. 
But the little startup endeavor — organized this year by local musicians Spike McGuire and Greg Gilmore after they got home from a regional tour by van — already is building a buzz. 
 
Beginning Dec. 19, Reno radio station KTHX-FM 100.1 — "The X" — will be airing songs on its weekday "Locals Only" program by five Loud As Folk artists who've recently recorded their own tunes in the label's little studio tucked into a corner room in the basement of The Potentialist Workshop at 836 E. Second St. The site is fitting, since the Potentialist Workshop itself is — for lack of a better description — a safe haven for all manner of artists who simply have a creative idea and want to paint or sculpt it, or stage it as a play or piece of performance art. Artists rent studio space or use the performance theater in the converted house. The nook McGuire and Gilmore rent in the sprawling basement is 20 feet wide by 18 feet long by 10 feet high. 
They're proud of the music they've recorded there the past few months and excited about what Gilmore calls "a takeover" of KTHX's "Locals Only" for a week. 
KTHX is one of only two terrestrial radio stations in Reno — the other being active-rock station KDOT-FM 104.5 ("Rock 104.5") with its single-song "Local Revelation"segment of its 10-11 weeknight "New Rock Revelation" showcase of new singles — to regularly feature the music of local acts. The X's weekday "Locals Only" show plays one song by an act at 6 a.m. and repeats it at 6 p.m. 
Reno Music Beat: Waller's voice is young, warm and wise 
The week of Dec. 19, The X will air one song a day from one of five Loud As Folk artists. The schedule, along with links to each act's music page (though the pages might not have uploaded the song The X is slated to play): 
• Dec. 19: Josiah Knight, "Black Dust." www.soundcloud.com/josiah-knight. 
• Dec. 20: Silver, "Black Lipstick." www.facebook.com/silverisaband. 
• Dec. 21: Rigorous Proof, "AK-47." www.soundcloud.com/rigorousproof. 
• Dec. 22: Christopher Wyatt Scott, "30 Something."www.youtube.com/chriswyattscott. 
• Dec. 23: Spike McGuire, "Medicine." www.soundcloud.com/spikemcguire. 
"The X is proud to continue our tradition of supporting local talent by featuring musicians from Loud As Folk Records," said Ian Sorensen, KTHX mid-day announcer and curator for "Locals Only." "It's encouraging to witness the growth of a local label and we're excited to do our part to highlight these amazing artists." 
"The artists we are featuring are the first to have recorded at the new studio," McGuire explained. 
As a longtime performer and tireless promoter in the Reno music scene, McGuire, 30, is quite familiar with the acts. Many have played at the well-attended Open Spike Night open-mic and potluck for songwriters he hosts Tuesdays at Pignic Pub & Patio, 235 Flint St. For the past five years, McGuire also has hosted a first-Thursday-of-the-month Loud As Folk showcase of local and traveling songwriters — and periodically shepherds some of his fellow Reno minstrels into a Chevrolet van and tours bars and clubs in California and the Northwest. 
Loud As Folk Records sprang from the showcase. 
"We started putting the studio together in April after Greg and I returned from a Loud As Folk Tour," said McGuire. "Our personal collections of recording gear complemented each other nicely, so we combined our resources and hunted down a few additional components to complete the setup. We run a hybrid of analog and digital gear, as both formats have advantages to offer. The engineering is handled by both of us. Greg's focus is on mixing and my focus is on mastering, though we often check in with each other during our respective processes." 
A third collaborator is singer-songwriter Brendon Lund, who also plays bass in Gilmore's new band, Silver, and previously was bassist in the erstwhile, popular Reno Americana quintet Buster Blue. "His help has been invaluable in a number of areas, including the sound treatment of the room," said McGuire. 
The studio has a scruffy, frat house-basement aura — functional but not aesthetic, right down to the scattered empty bottles and the stuffed easy chair Spike bought at age 10 from a garage sale, overriding his mother's objections. Panels of foam insulation are placed strategically on the walls and ceiling. Here and there are acoustic or electric guitars in cases and various other instruments belonging to McGuire, Gilmore or the other artists who've recorded in the room. There is a 150-foot audio snake cable snake, which Gilmore totes to various parts of the house to record reverberation and delay effects. Stacked against one wall are office cubicle panels for isolating drums or other instruments. Gilmore and McGuire prefer recording backing tracks live with full bands, then adding vocals and augmenting sounds such as tambourines. The finished takes are run through a reel-to-reel recorder that once belonged to Reno station KOZZ-FM 105.7, to create a warm, analog texture. 
The studio's centerpiece is the 24-channel Soundcraft Spirit Studio console Gilmore bought used, and which he notes is the same model used on recording Beck's breakthrough 1996 album, "Odelay." That purchase helped spur creation of his and McGuire's studio. 
"The rest of the stuff was either acquired for free through Craigslist or monster deals on eBay," said Gilmore. "It's a real secondhand studio. Nothing was new when we started." 
The little studio has yet to be named. In fact, it's not exactly for hire. It's a labor of love conceived to record artists whom McGuire and Gilmore believe need their music recorded. 
"There's nothing worse than recording something that you hate," said Gilmore, 26, a singer-songwriter-guitarist who's spent hundreds of hours recording his own music — and produced some gems, including with his former rock bands The Kanes (whose song "Nightmare" placed the band first in the Gazette-Journal's 2013 annual roundup of local original music) and KARMA (whose song "Sticks & Stones (Get It On)" took second place in 2015). 
"Over the years, Loud As Folk has developed an incredible network of songwriters and musicians, so what we have built here is more of a clubhouse than a studio," said McGuire. "We don't have business hours, we don't have rates, we just have a bunch of incredibly talented people that we are proud to call friends." 
"It's more of a co-op than a studio," said Gilmore. "The biggest point for me is to try to strengthen the music scene.  Really, to get some of our good friends together, record some of our favorite songs of theirs, do some light marketing to help with promoting, and really just try to help — however we can — to get their songs out to more people."